LL Bean has a great fleece lined flannel shirt that I wanted to wear as a layering piece as cooler weather approaches. (YAY FALL! YAY LEAVES! YAY NOT SWEATING!)
I went to the local store to try on the ladies version, which fit… mostly. As per usual with ladies long sleeve shirts, the sleeves were too short. It also wasn't long enough, for me. I want a little more of my bottom covered. I went to the other side of the store and tried on the men's version of the shirt. It was long enough, both in the body and sleeves, and fit fine in the shoulders. I just looked like I was playing dress up.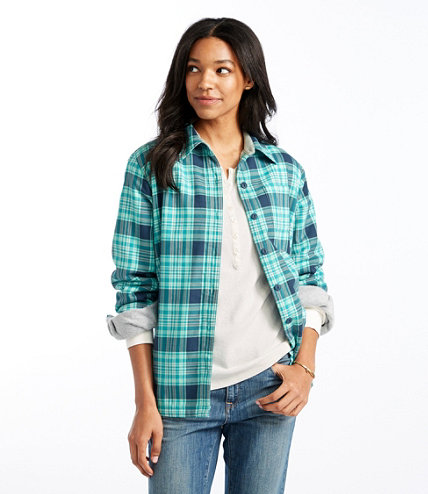 No bueno. I went to the pattern stash, and pulled out McCall's 6613.  I had originally planned on using the pattern to make a few dress shirts for Matt, so I have a few copies. Stash pattern! I know that I bought it when JoAnn's was having a 5 for $5 sale.
JoAnn's had a sale, a coupon, and double napped 100% cotton flannel in the colors I wanted (pink, grey, and black). I took my prize home, and washed it. Very little pilling of the nap.
I cut the front button bands and the yoke on the diagonal, and everything else on grain. I even bothered matching up the plaids, using Lauren's tutorial.
The pattern has the sleeve in two pieces – which I was totally not going to do. Why put an extra seam down the length of the arm when it isn't necessary? I cut off the seam allowance on the smaller pattern piece, and taped it on to the larger piece. Ahhh, much better.
I changed the boring sleeve placket to an actual sleeve placket, since I want this to be warm. I used the Threads Magazine pattern,  and this you tube tutorial from Angela Kane.
I lost the cuff piece, and then found it when I went to set the sewing lair back to rights.
I spent last Sunday night putting the sleeve plackets on, with a lot of success and happy dancing. They aren't perfect, but the flannel hides a lot of imperfections, and I think with a crisp cotton or linen, would be much easier to manipulate. Did I do a practice run on some scrap first? Of course not!
I did my happy dance, and went to show Matt and couldn't figure out why the shirt wasn't sitting correctly. It turns out that I had sewn the right front on backwards. Sigh. I need to rip it out, and recutting the back yoke. The interfacing I put in is way too much, and I look like a Romulan or a Pre Vatican II priest with it on. Out damn seams!
I hope to have this finished for this weekend. I even ordered pretty black pearl snaps from Cowgirl Snaps.